Welcome to our battle lessons, in this topic we will try to teach you how to build a nice solid War Base (WB) and some strategies in order to conquer your enemies.
We start on TH3 because TH1-2 are not meant to be in wars.
We must say a couple of important things:
#1 Dont worry about trophies, for the moment they are useless; if you push for trophies, you will be attacked by stronger players and will lose your precious resources
#2 Walls walls walls, they are very important (regardless some people say) this walls will slow the enemy preventing them to attack directly on your defences.
So, build them high!!
#3 Dont rush. It should be a capital sin to rush your TH. If you upgrade your TH without upgrading defences, you'll become an easy target for farmers. Remember, its harder to farm on higher levels, so it will be very difficult to upgrade defences and troops once you have rushed
Chapter 1: Designing a WB
First of all you should know how stars are earned

for doing 50% damage

for destroy TH

for doing 100% damage (Anihilation)
With this in mind, place your TH in the center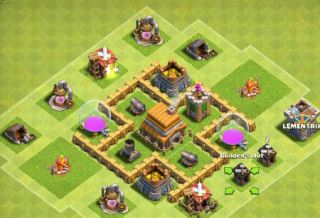 For being a WB its a good idea to place storages and collectors outside, so enemy troops will be distracted while getting hit by your defences
Please use your walls as a perimeter, dont do this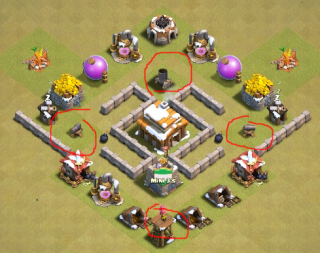 See how this budy placed defences open with no wall protection. This way enemies will attack directly on defences (especially Giants)
Why bother in build walls if you are not going to use them??
Chapter 2: Clan Castle (CC)
The Clan Castle its a very important aid during wars, there are 2 types of troops during wars.
Donations by the "Preparation Day War Page": these troops will defend your WB when getting attacked and they will remain there untill the war is over.
Usually clans give the higher troops to prevent a 3 starred.
Donations by "Chat": these are the regular troops you request by chat, its important to ask for the right troops. It will be awesome to get minions or ballons because TH3's doesnt have Air Defences (AD) or a couple of high level Giants, so you can use them as a shield protecting your "weak" troops.
Chapter 3: Attack Strategy
Scout the base you are goind to attack and study it, try to make (in your mind) the path troops will follow so you can be prepared. Mortars and Air Defences are primary target.
Its imperative that you lure (take out) CC troops and kill them away from defences, onced killed you may start your attack. To lure CC troops just drop an archer on the CC radio, then drop another barb or archer away from enemies core so you can easily take them out.
TH3's has a 70 troops cappacity so we recommend you train 8-10 gaints, 10-15 archers and 10-15 barbs; on CC you must have 2 giants or ballons.
In resume:
Scout enemies base
Lure CC troops
Mortars and AD first (send giants and backup with archers)
Once mortar is gone, send rest of the troops)
Piece of cake!!
Admin




Posts

: 14


Join date

: 2015-08-26


Age

: 33


Location

: Venezuela



how about wizard towers... they are brutal.



Posts

: 11


Join date

: 2015-08-26



Nobody wrote:how about wizard towers... they are brutal.
TH3 doesnt have WT!!! They become available at TH5.
Do research before post
Admin




Posts

: 14


Join date

: 2015-08-26


Age

: 33


Location

: Venezuela



oh u were only talking about th3! what if they attack th 5 XD



Posts

: 11


Join date

: 2015-08-26



Similar topics
---
Permissions in this forum:
You
cannot
reply to topics in this forum